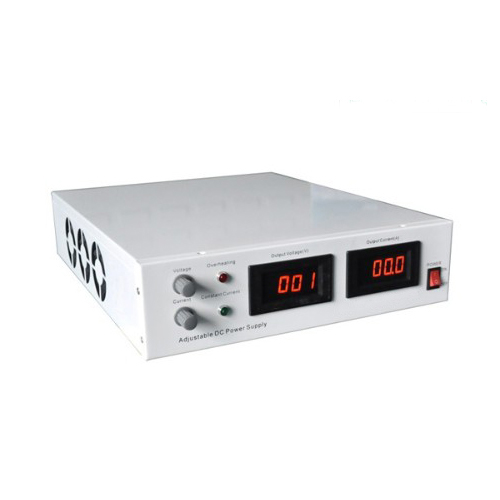 I. General information
It is widely used in power DC system, industrial control, communication, and battery charging equipment and for scientific research.
II. Features
● It uses switch power technology. Input voltage range is broad.
● Max. Output is 250V/15A, max. Power is 3750W.
● The voltage stabilization value (when output current is less than setting current, output voltage is equal to setting voltage, the device is in voltage stabilization mode) and current stabilization value(when output is equal to setting value, output voltage is less than setting voltage, the device is in current stabilization mode) can be adjustable within 0-100% of max. Value.
● With protection functions. It built-in temperature control heat dissipation fan. With over-heating automatic power off protection. With over-voltage, over-current and short circuit protection.
● Digital display output voltage and current.
● Easy operation.
III. Specifications
● Input voltage: AC220V±15%, 50/60Hz.(When output voltage is decreased, the allowable input voltage lower limit is decreased.)
● Adjustable range of output voltage: 0-250V
● Adjustable range of output current: 0-15A
● Adjustment rate of source voltage: Voltage stabilization≤0.5%, adjustment rate of load: voltage stabilization≤1%, constant current≤2%.
● Efficiency: ≥ 86%
● Ripple voltage: Total ripple wave voltage Vpp≤3%.
● Output voltage: display accuracy ±1.5% (calculate according to max. Output voltage)
● Output current: display accuracy ±2.0% (calculate according to max. Output current)
● Overshoot of output voltage when start-up: ≤2%
● Insulation resistance: input to output ≥20MΩ, input to shell ≥20MΩ, output to shell ≥80MΩ.
● Insulation strength: Input-output, AC1500V, 10mA, 1min; Input-shell, AC1500V, 10mA, 1min; Output-shell, AC1500V,10mA,1min.
● Temperature threshold value of over-heating protection: 75-85℃
● Average non-fault time: ≥ 50000h.
● Environment condition: storage temperature -20--50℃, working temperature -5--45℃, relative humidity 90%(at 40±2℃), atmospheric pressure 70-106kPa.
● Dimension: 370*300*78mm. Weight: approx. 8kg.
● Heat dissipation air flue: front inlet and back outlet of internal air flue.
IV. Working Principle
The input voltage of AC or DC is entering into "rectifying filter" circuit through "input trapped wave" circuit, to obtain high voltage DC voltage(about 300V). "Power conversion" will invert the high voltage DC to about 35kHz high frequency AC, and convert to output required voltage by high frequency transformer, to obtain output voltage by high frequency rectifying filter. The control circuit will sample output voltage and current, after closed loop feedback, it will generate PWM(pulse width modulation) signal to control "power conversion" circuit, and make the output voltage or current stable.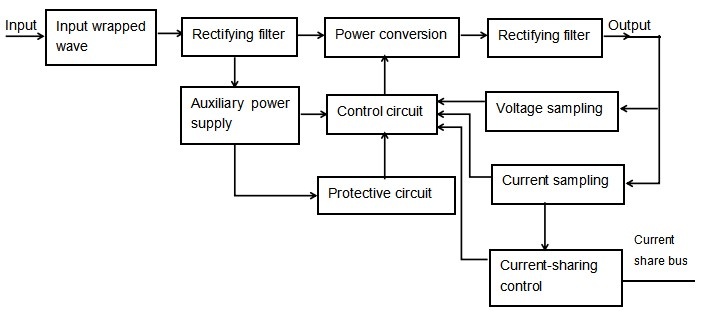 Output constant voltage and current are sampled by output side, ensure high stability and reliability.
"Protective circuit" supplies protection function of temperature control, overheat, over-voltage, over-current and short circuit.
Panel instruction